Author: Frenk T. Sedmak Nahtigal, 6th March 2013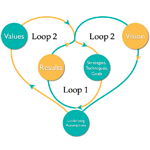 photo credit:
Bruce Caron
via
cybersocialstructure.org
Often in life we follow patterns, repetitions of our actions as we are engaged in a single-learning loop. We see things as they appear and rush to get to the results of our actions focusing only on incremental changes. If our actions do not yield expected results, we might fine-tune our strategy or change it in hope of achieving them. But sometimes that is not enough to achieve the desired results. We need to change the way we think, question our values, our beliefs.